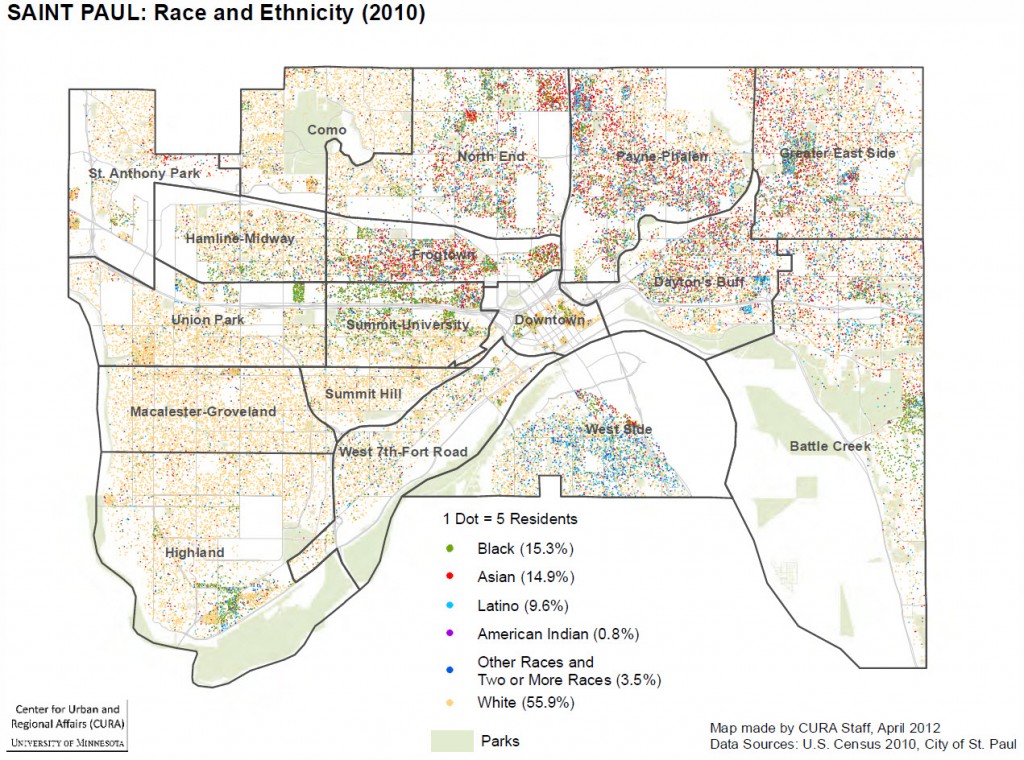 Thanks to mapping help from the Center for Urban and Regional Affairs, we've been able to target our inclusive online community engagement doorknocking in St. Paul.
Not on a Neighbors Forum? Join here for St. Paul and Minneapolis or any of our 17 communities across three countries.
(Yes, we are one of the only projects that signs people up for two-way online communities on paper … this technique is central to real inclusion and engagement. Our goal with each of our 16 St. Paul Neighbors Forums is to have forums that reflect the actual diversity of the area based on the census. We have challenging numeric goals based on population not just households (much of the non-White population is under 18) so we recruit toward the increasingly diverse St. Paul of tomorrow as it becomes majority non-White.
The "dot" format takes its inspiration from the work of Bill Rankin. When you scroll through these maps of metros around the country (note that we changed colors so you could "see" more), you get a sense of just how dynamically layered much of St. Paul is compared to other communities. In St. Paul, much of the population is all mixed together with no single absolute majority population in almost half of the District Councils. This means bridging cultures/races online within the same neighborhood is possible.
Here are the large PDF files. Zoom in via the PDF to get a close view.
St. Paul Map – Major Race/Ethnic Groups – Each dot represents five people. Note that white folks represent 56% of the population and are light on the image to help us "see" the diversity we are targeting in our special outreach. National surveys and our experience is that majority groups, particularly higher income homeowners, flock to online neighborhood groups.
St. Paul Maps by Race:Asian, African-American (includes all Blacks including newer immigrant groups like East Africans), Latino
St. Paul Diversity by District Council Charts – A chart showing the age break-down by major ethnic/racial groups by District Council as well as a comparative chart (image below) on diversity as a whole by District Council. It is important to note that District Councils range in size from 7500 to 30,000 people with most of the largest ones except Highland being lower income and far more diverse than the smaller ones (they were created in the 1970s).
Minneapolis Map – Major Race/Ethnic Groups -Â Each dot represents five people (image below). Other than some Latino/East African outreach in S. Minneapolis, we currently do not have funding for the kind of intensive inclusive outreach we seek to deploy in any community interested in bridge building online engagement among neighbors.