Everyone connected with their neighbors for participation and community. Here is how we do it.
[youtube]ZmoBTuPBQOM[/youtube]
Thanks to support from the Minneapolis Foundation's MSNet Fund, we've been methodically building a base for an online neighbors forum in this extremely diverse community. With approximately 7,500 residents concentrated in apartment complexes not far from the University of Minnesota's West Bank across hospitals and clinics to homes on a bluff overlooking the Mississippi, the Cedar Riverside neighborhood is as eclectic as any place you'll visit on earth.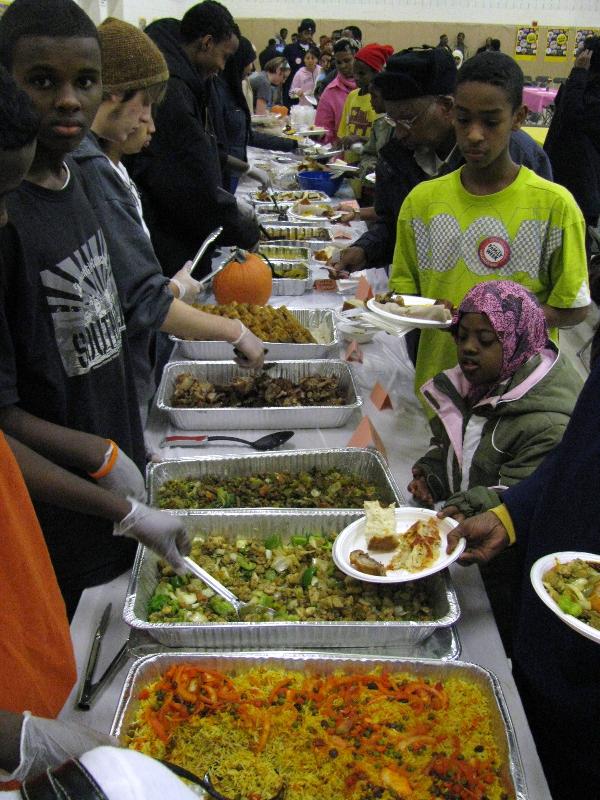 The other evening, volunteers led by Ben Marcy, signed up close to 30 people at the Multicultural Dinner hosted at the Brian Coyle Center. Next the center are a number of public housing towers with thousands of Somali and Oromo residents, a growing Latino population and long-time Korean and Vietnamese residents. The area also has a history as the heart of the progressive/radical community going back decades to today's Hard Times Cafe. On the sign-up forms, people listed issues they would like to discuss such as neighborhood peace and safety (five young Somalis men were murdered in the last year across Minneapolis), opportunities for youth, and more. In addition to local City Council member Cam Gordon who is helping promote the forum, a couple of school board members signed up that night. We feel strongly that person-to-person dialogue with a connection to our representatives as peers is crucial building agenda-setting power in our discussions.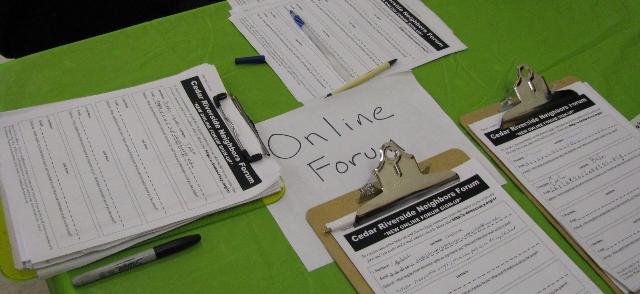 With in-person outreach on paper sign-up forms, one on one meetings with community organization leaders, and online outreach we are up to 70 initial members. We open forums for introductions and general posting after we reach the magic 100 number (sometimes intros start early to help build momentum). Unlike most neighborhood forums we've identified in mostly well off places, this one is in a low income, highly diverse area. With our aggressive outreach we are on track to open a forum that is more reflective of that diversity than perhaps any place-based online forum to date. When we open the forum, we will work carefully behind the scenes to encourage the diversity we've recruited to introduce themselves and make sure their voices are heard. The first few posts will set the tone and determine whether people see the online space as relevant to their lives and desires for the community. While we continue to host all volunteer driven forums, funding makes it possible for us to help communities on the other side of the digital divide take advantage of our tools and community-building approaches.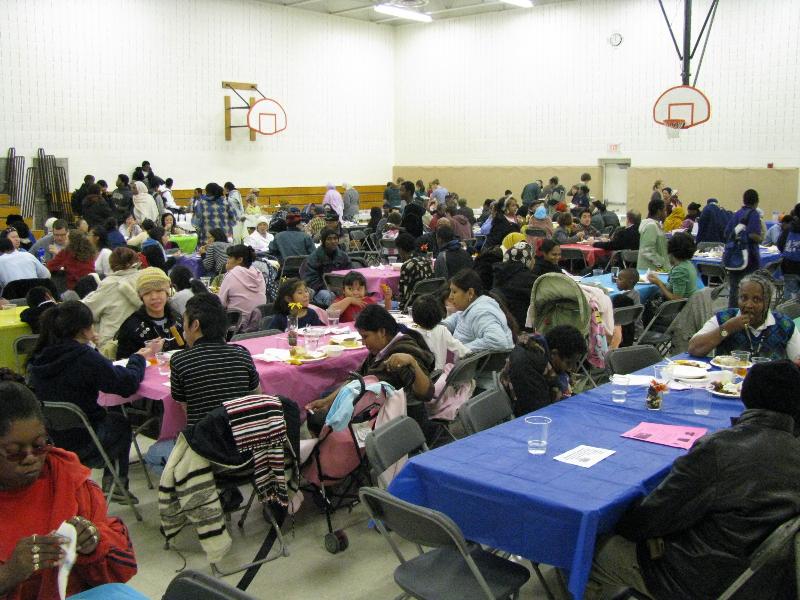 Next up to close out the grant, the heavily Southeast Asian and African-American Greater Frogtown area of St. Paul. We are scouting someone with organizing experience and roots in the neighborhood to help us out in the coming months on contract. Contact us.
Here is the text of an invitation to join signed by Ben Marcy, Amina Harun, Rhonda Eastlund, Mustafa Adam, Jen Moates, and Hani Mohammed.
To community members of Cedar-Riverside,
As a joint effort of numerous organizations and individuals of Cedar-Riverside we invite you to join us in a new form of neighborhood communication:
http://e-democracy.org/cr
Through the support of E-Democracy.Org we are creating a new online issues forum where neighbors can send messages to each other about important community topics and cultural events. Think of it as an open and inclusive message board that potentially everyone can read, participate in whenever and where ever they are.
Topics may include:
* Neighborhood safety issues
* Area schools and opportunities for youth
* Local public health issues and options
* Area environmental concerns
* Local development and small business developments
* Community announcements from local cultural and civic organizations
* Other local issues and neighborhood life exchanges
Through this forum, our many diverse communities will have the opportunity to share their unique perspective and be heard, as well as to learn about one another. We will be able to instantly share important information that we can use in efforts to improve our neighborhood.
Sign up here – http://e-democracy.org/crjoin – and follow the simple step by step process to become a member of the new Cedar Riverside Neighbors Forum. You may participate via e-mail or web – your choice.
With active facilitation and E-Democracy.Org's tested civility rules (real names, etc.) together we will maintain a respectful discourse, and positively encourage all in participating.
While this forum is independent from any existing local organization, many groups and volunteers from different perspectives and backgrounds across the community are helping extend this invitation. Please help us bring together hundreds of our neighbors by passing on this invitation and visiting the website today – http://e-democracy.org/cr – to sign-up.
Join Us!
Ben Marcy
Amina Harun
Rhonda Eastlund
Mustafa Adam
Jen Moates
Hani Mohammed
To volunteer to help launch the forum, e-mail: cr@e-democracy.org
P.S. If you have any trouble signing up, simply e-mail – support@e-democracy.org – with "Cedar Riverside Sign-up" in the subject with your full name and we will help you. Or call 612-605-0137.