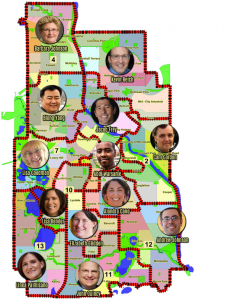 Are you ready for something completely new?
Introducing the "Facebook Native Politician" … meaning someone on Facebook from their teens or college days now entering elective public office. Facebook user first, politician second.
In my view, Minneapolis has the most exciting 24/7 "Facebook" engaged City Council in the world.
With this embryonic case study, you can decide for yourself, explore the lessons, and adapt them to your community.
This unfolding story is about what happens when you elect seven new city council members with an AVERAGE age of 33 who are Facebook Natives. This is combined with 6 returning council members and a new Mayor who in their own right are also quite social media savvy and engaged online with their constituents.
This is no longer a story of using social media to gather votes and then going silent once power is gained. This "engagement generation" sees things differently.
You may have heard about #pointergate. Now check out the deeper context of social media engagement in Minneapolis public and political life and join our live online Hangouts and Facebook Group topic to share Facebook engagement stories from your elected representatives around the world.
Video
Watch the snappy half-hour presentation by E-Democracy Executive Director Steven Clift hosted by Involve with the University Westminster's Centre for the Study of Democracy (Clift starts at 5:15):
[youtube width="570″ height="360″]http://www.youtube.com/watch?v=XLbG8NWnIO4[/youtube]
Slides
Google Slides (includes updates)
SlideShare (as of Nov 18 2014):
Blog Posts
About this event/presentation: