Sep. 5 Update: The draft outline is now version 1.4. DC "national" input meeting is on for Thursday, Sept. 10 – RSVP to: clift@e-democracy.org – Future MN gathering planned.

Are you ready for what's next? Help us build it.
If you could engage at least 10% of households in your local community/neighborhood on most days in local "public life" online what would you do? What about 50% of households at least once a month?
E-Democracy.org is circulating a draft outline (and companion slides) we are calling "Participation 3.0."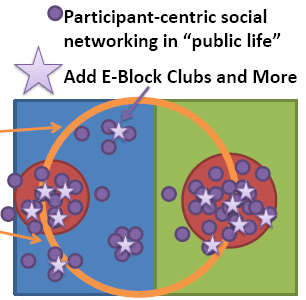 With our fundamentally two-way and interactive local Issues Forums, we've been 2.0 since our founding in 1994 with the world's first election information web site. In fact, it wasn't shoveling candidate information which survived, it was and is our sustained convening role as a host of agenda-setting, "local up" civil interactivity among people in public life. In one Minneapolis neighborhood, we now have about 10% of houselholds interacting everyday with a local Issues Forum. In St. Paul we've signed up hundreds of people in-person in the most diverse, lowest income neighborhood in St. Paul.
So, what's next?
Participation 3.0.
In short, take the engine of neighborhood Issues Forums plus social networking-aware electronic block clubs for critical mass "everyday" online citizen participation. Combine this participatory audience with the "next generation" online civic engagement features. Develop these features in an open and agenda-setting manner that influences opportunities for local online transparency and engagement everywhere. Also, be open to using "free" services that can be "mashed-up" back into community awareness by leveraging emerging third-party tools as it makes sense.
The vast majority of online projects seeking to engage people in governance and community are doomed to failure based on the lack of participants – we've seen this again and again over our 15+ years. The nut we've cracked is breaking through with effective outreach and recruitment. Combine this with our compelling entry level online Issues Forum civic engagement activity and we bring people to the party so to speak.
In the coming year, we are going to be thinking big by focusing local where we are most established (Minnesota) and build connections to best democracy and technology minds and projects around the world to build on what works. Whether it is meeting with RT Rybak, the supportive Mayor of Minneapolis or trading e-mail on my draft with people like Craig Newmark from Craigslist, the feedback on our draft is amazingly positive (not to imply endorsement or something). People are ready for what's next. They like to think big when it is also realistic.
We'd like to share our inside thinking with you so you can help make it better.
Please download our draft Participation 3.0 outline and related quick overview slides in PDF.
After an initial round of feedback here on the blog (public) and via e-mail (private), we plan to wikify our drafts.
In the coming weeks we are responding to initial foundation interest in our draft, so if would like to offer your ideas, involvement, in-kind support, or further funding, please do not hesitate to contact us. Real offers of involvement leveraging existing resources will make our case for a grant even stronger.
Depending upon how funding shapes up, we hope to blow open the participatory process to better determine which tools and ideas really hit the real value for democracy and community sweet spot. We propose to collaboratively generate open and detailed specifications so next generation features/projects, inspired or influenced by you, can spread across both open source content management tools as well as proprietary platforms used by governments and many civil society groups. We will then work to deploy these features/projects carefully with our critical mass "e-citizen" participants in our local communities starting in Minneapolis, St. Paul, and then beyond. If it works here, where we are building a deeply participatory and diverse base of "e-citizens," then new local e-democracy features have a chance. Let's be frank, to be local everywhere, you need to local somewhere first.
Steven Clift,  Executive Director, E-Democracy.org
P.S. I am planning to convene interested folks in Washington, DC to provide input on this draft the evening of September 10 in DC. If you want to participate, drop me an e-mail with "DC P3" in the subject line to: clift@e-democracy.org