I arrived in Brighton & Hove yesterday afternoon and began my afternoon by meeting with Dan Jellenik a relatively recent addition to the E-Democracy.Org Board and co-chair of the Brighton & Hove E-Democracy steering committee. It was a great chance for us to catch up on some of the BIG strategic issues that E-Democracy.Org is trying to deal with at the moment.
We then moved along to the SCIP (sussex community internet project) offices for a meeting of the Brighton & Hove E-Democracy steering committee. The steering committee meeting included Mark Walker (the other co-chair of the committee), Roy Newell, and Tom Coady. Items on the agenda were:
Improvements to the web site (Groupserver)
Possible sources of funding for outreach/recruitment
The vote to potentially increase the number of postings per day
As always, the folks in Brighton & Hove raised and discussed some of the really critical issues facing E-Democracy.Org as an organization. For example:
Do they really need E-Democracy.Org to do what their doing or should this be an independant project of the local community
What kind of financial relationship does/should Brighton & Hove E-Democracy have with E-Democracy.Org
Just how democratic does Brighton & Hove E-Democracy want to be (or how democratic can it be)?
I'll try to address some of the issues raised here in future posts to the project Blog, but I can summarize the discussion by saying that no defininative answers were arrived at for any of the above questions. BUT, as usual, the discussion was hugely helpful for me in advancing my own thinking on all these matters.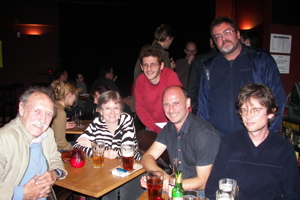 Later that evening, most of us reconvened in a local pub to further the discussion with a handful of other volunteers and Issues Forum participants who joined us. It was a great opportunity to share ideas, discuss the local Issues Forum, and talk broadly about the future of the Issues Forum and E-Democracy.Org. Here is a photo of the group, shortly before I spilled and entire glass of "Speckled Hen" beer on Dan Jellenik's lap. (Sorry Dan!) Pictured from left to right are: Roy Newell, Helen Russell, Dan Jellenik, Mark Walker, Mike Snewin (forum manager), and Derek Parkinson. My apologies to those who left before I took this photo (including, but not limited to, councilor Roy Pennington.)
The Brighton & Issues Forum has grown to 247 members (up from 243 in August).