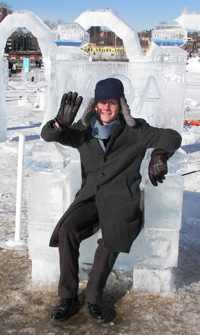 Last weekend (Jan 25th-28th), Dan Jellinek visited St. Paul, Minnesota from his home in the UK (where he is co-chair of the Brighton & Hove Issues forum steering committee) for the first face to face meeting of the E-Democracy.Org board, since it expanded early last year.
The board met all day on Jan 27th to outline an E-Democracy.Org strategic plan for the next three years. I expect that we'll be posting more about that sometime in the near future. However, on the lighter side, I wanted to share a few photos (see slideshow in Flickr) of a side trip that I took with Dan to the St. Paul Winter Carnival (see Winter Carnival topic in St. Paul Issues Forum).
To make sure that Dan got the true spirit of the St. Paul Winter Carnival, we turned the thermostadt down to 5º F / -15º C on that day.