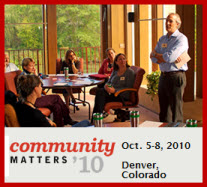 Editors Note: The other month we received an invitation to have a booth in the "sandlot" at the Community Matters conference. Because I've been in occasional contact with the head of the Orton Family Foundation, I suggested that we could step that up and also host a virtual round of introductions. The exchange, using our simple and effective online groups technology with human facilitation, generated about 70 excellent introductions which jump started the in-person conference before people arrived in Denver. We did this successfully with the first  CityCamp unconference last year as well. The CityCamp Exchange has evolved into a model dynamic ongoing exchange.
This was one of our first booths "out in the field" so to speak. My primary goal in sending Boa and Julia was to help raise awareness of our Inclusive Social Media efforts in lower income, high immigrant neighborhoods with a new constituency. I'll let them share their reflections before closing the post with some further comments and answers to questions they received.
In the last year with our push into neighborhood-level work, I've come across a number of "silos," if you will, of community builders ramping up their use of social media and Internet-mediated knowledge exchange. The more planner-oriented Community Matters network (also note the Planning Technology online group) those in public health with the Community Toolbox, new efforts to share local "what works" story sharing fostered by the Craigslist Foundation (more from their labs on the new LikeMinded project), networks in the UK on "neighbourhoods" and now the "Big Society," those working from civic engagement and deliberative democracy or community dialogue frames, and the Locals Online and CityCamp movements and related uses of social media in neighborhoods often led by technologists are all doing their good work in relative isolation. However, with the excellent silo-busting OurBlocks.Net blog led by Leo Romero and our own interest in convening across fields, the awareness and synergistic connections among these actors presents a terrific opportunity.
OK, Boa and Julia didn't know they were part of some multi-year grand scheme to network local community builders, but we need to get out more among these networks at in-person gatherings like CommunityMatters to introduce our own work and connect everyone seeking to use technology to build local community and democracy.

By Julia Opoti and Boa Lee, Inclusive Social Media Community Outreach Leaders for E-Democracy.org
Reflections on 2010 Community Matters Conference
The Community Matters Conference provided an opportunity for us, Boa and Julia, to take stock of our e-democracy outreach efforts. It gave us insight as to what types of background training will be required for communities around the nation to be able to understand and utilize Neighbors Issues Forums in a meaningful way.
While both of us agree that the CMC was a great processing tool for community organizers to engage in community planning, we found that we were not adequately prepared for the audience niche.
The conference was attended by mostly planners, elected officials and individuals working in and with government.  Most of the entities came from smaller towns and our inclusive engagement work comes from the urban inner city. From our work in St. Paul and Minneapolis, we know that local communities have already established the importance of being and staying involved using the Internet and its social media tools; for communities we are familiar with has been to increase the number of diverse voices in community and city planning.
We spoke to several people at our "sandbox" (an interactive conference booth time), however many of them were from communities working on new comprehensive plans, thus they were at the conference to seek Geographic Information System planning resources.  Certainly, the majority of the tools in the sandbox were applications that a planner would use to aid in helping communities envision economic development projects, beautification projects and the like.  We wondered if Neighbors Issues Forums could be implemented into some of these platforms to serve as an auxiliary communication tool. We suggested to several of the participants that e-democracy would serve as an effective comprehensive platform for neighborhood communication and collaboration.
As mentioned, the deficit in our participation at the conference was that we weren't adequately prepared to deal with our audience.  This being our first time at the CommunityMatters conference, we did not know the background and demographics of most of the attendees.  While we did sell certain attributes of Neighbors Issues Forums — including that it is a simple interface, has a low learning curve for computer illiterate individuals, comes with email capability, and that it requires real name use which demands accountability – it would have served us better to have tailored our message to the attendees so we could meet them where they are at.
In the future, we suggest that whenever we attend conferences, we consider the expected audience: who they are, where they're from, their comfort level with technology, what value they place on community engagement, etc.  We also realized that in order to help people appreciate the value of a tool like Issues Forums, we must first broaden our scope of presentation to include topics like transparency/open government, civic engagement and technology/social media.  We must be cognizant about framing our discussions around why we exist — E-Democracy.org's mission — in order to connect with our target audience.
The following questions were taken from participants visiting our booth:
1. How much does it cost? (We overheard this — they didn't ask us directly.)
2. Can we have a non-geographic group (esp. a group for people working on public health issues)?
3. How is E-Democracy.org different from FrontPorch?
4. What platform do you use? (Too technical a question for us to answer.)
5. How many people do you need in order to start your own forum?
6. Can E-Democracy.org incorporate Google Translator?
7. How does a politician (city councilor) seed information without getting political?
8. Can the forum be part of an organization's already existing website — added to and not just linked?
Editor's Response:
Thank you Boa and Julia for charting our foray into broad lessons sharing. In 2011, we will be gathering up our Inclusive Social Media lessons for a virtual and sometimes in-person roadshow at conferences an the like.

Here are my answers to some of the questions you received.