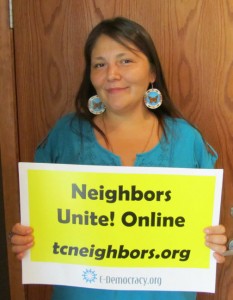 Whether it is Somali Independence Day in Minneapolis (video), Rondo Days, or the CHAT Hmong arts festival in St. Paul, our new outreach team will be in the field across the community this summer.
Our goal is to recruit at least 1,000 new participants across our Twin Cities online neighborhood forums (15 forums open with 18 new forums in the pipeline) with major growth in the diverse, lower income neighborhoods we work with as part of our Inclusive Social Media effort.
Here is our lead summer outreach team – along with their diverse community and neighborhoods of focus:
Corrine Bruning – Outreach Coordinator
Ayanna Raven Benitez – Latino (Powderhorn, Phillips)
Damon Drake – African-American (East Side, Summit-U Rondo, Frogtown)
Deanna StandingCloud – Native American (Phillips mostly)
Julia Nekessa Opoti – East African (Special engagement work, Cedar Riverside extending to Seward, Phillips)
Kaying Thao – SE Asian (East Side, North End, Frogtown)
As great applicants for the part-time positions above (most are two month summer jobs except for Julia and Corrine) came in, we felt compelled to add some additional outreach roles. Let's call them "volunteers+" for their dedication, as they provide additional grass roots outreach in the community. The idea is to time-efficiently leverage their existing networks and existing activities deep in the community as they recruit up to 100 people each.
Thank you for joining us:
LaShunda Jackson – African-American/Everyone in Frogtown
Mustafa Adam – East African Outreach (Any Forum)
Salmah Hussien – East African Outreach (Any Forum)
Sandy Ci Moua – SE Asian Outreach (St. Paul-wide)
Possible – Additional Latino Outreach (West Side St. Paul) – Interested? Contact us.
This project is supported by grants from the Ford Foundation, the Minneapolis Foundation, and the Knight Foundation (St. Paul Foundation donor-advised fund).
With all of this "digital inclusion for community voices" work, we are experimenting and generating "how to" lessons we will be sharing via future Inclusive Social Media webinars, via the Digital Inclusion Network, and other means. One lesson we can share now is a reflection on trust.
Trust.
Trust is a powerful thing.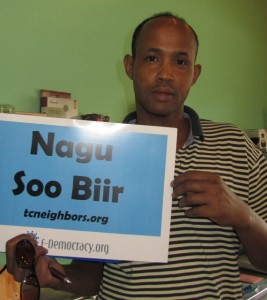 Going to a community and saying "we will empower you, just trust us" simply does not work. If anything, it will get you tossed out. Further, taking a technology-first approach can create distrust and generate conflict if you roll over long-time and essential community voices who happen to be the wrong side of the digital divide. Inclusion isn't providing an "opportunity" and then being satisfied when few show up.
With this in mind, we had one of the most powerful and humbling E-Democracy.org gatherings in our 18 year history the other week.
Gathered around the table/phone were most of our recently contracted ten member Diverse Communities Outreach Team. While our funded Inclusive Social Media effort is focused on lower income, high immigrant or highly diverse neighborhoods, all of our all volunteer-based forums should strive to broadly represent the full diversity of their neighborhood not just of those who most easily "show up." The fact that Internet users who make 75K a year are 5 times more likely to belong to a neighborhood e-mail list or forum than someone online who makes 50K of less a year can not stand (15% v. 3%) (Source: PewInternet.org). Our direct experience is that all neighborhoods can benefit from digital community engagement and the digital divide is no excuse to wait.
During the meeting it dawned on me that this was NOT about E-Democracy.org building enough trust to get people to join forums on a website they have never heard of, it was about our team members putting their own hard earned trust on the line.  They are sharing their trust to help build our shared effort and vision that all people who live near each other (of many different backgrounds) should be able to talk to each other in an open, accessible, welcoming, civil, and effective local community building setting online.
Gulp.
(On a related note, one outreach leader noting skepticism in initial conversations, said anything that starts with "e-" is thought of as a likely pyramid scheme in their community.)
So together we are rolling up our sleeves and getting out into the community to reach people one at time so every voice can be heard one click at a time.
Some Video
Say here is our video from our Somali Independence Day as well as May Day outreach.
[youtube]Tj74Xjv9rqY[/youtube]
[youtube]NUL2SVJL1ds[/youtube]