Neighbors Online Webinar: Connecting Communities 101
Community Engagement Online for All – Introductory Webinar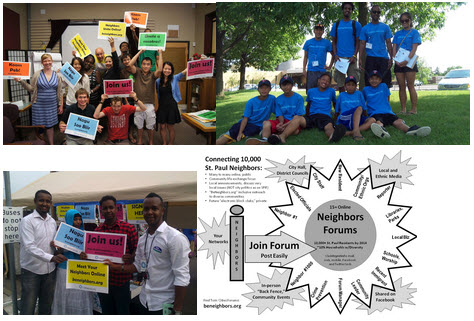 Time and Date:Â TO BE RESCHEDULED
Place: Online Webinar/Teleconference – Details will be sent near event
Cost: Free, Space is Limited – Free-will donations support outreach to lower income, diverse communities.
Join us for a dynamic two part webinar on building inclusive online community engagement in neighborhoods.
1. Neighbors Online – Who is doing what? Multiple tools and models from around the world.
2. Inclusive Community Engagement Online – Stories and lessons you can adapt and use in your own community are emerging from the world's largest effort to inclusively connect 10,000+ diverse neighbors online in St. Paul, Minnesota by 2014.
The webinar will be facilitated by E-Democracy.org. It is funded by the Knight Foundation as part of E-Democracy's Inclusive Community Engagement Online initiative.
This special webinar is free. Intensive training and coaching options are in the works (see below to request more information) for interested communities. For a preview of related content, see our slides from our recent Seattle workshop.
Webinar Details
1. Neighbors Online – Who is doing what?
Part one will introduce conversation-based neighbor connecting "tools" like simple e-mail lists, Facebook Groups, new .com sites, etc for both nearest neighbor "block clubs" and larger neighborhoods/communities. We will dig into why, where, and how (public vs. private, inclusive or resident-only). We will put numbers to the startling divide related to the powerful online neighbor connecting that should and can benefit all people. With millions of participants across scores of platforms, it is time to give this below the radar movement some deserved attention.
Special Superstorm Sandy Update: We're adding a short section on using online neighbor connecting for disaster response and community recovery.
2. Inclusive Community Engagement Online – Lessons to adapt and deploy locally 
Part two will go in-depth on E-Democracy's new BeNeighbors.org outreach effort to build inclusive and integrated online community engagement in lower income, highly diverse, high immigrant neighborhoods starting in St. Paul and Minneapolis, Minnesota. E-Democracy hosts over 50 Neighbors/Community Forums across 17 communities in three countries.
Why inclusion? Online neighbor connecting is useful and powerful for those who discover it. However, among the many divides, the Neighbors Online study by PewInternet.org found that households making 75K a year are 5 times more likely than those making 50K or less to be a member of a neighborhood e-mail list or forum.

Contact
If you have questions about this event, please contact E-Democracy.org at team@e-democracy.org or 612-234-7072.
Further Background and Future Training
With 2 previous years of pilot funding from the Ford Foundation and now extended St. Paul funding from the Knight Foundation through 2014, the BeNeighbors.org effort hopes to exchange lessons with projects across Knight Communities and beyond. By openly sharing our challenges and insights, we hope to learn from the work of other great projects.
If your community or organization is interested in related intensive e-training, hosting a local workshop, or ongoing coaching on these topics in 2013, please contact us.
Our educational extension goal is to help local communities dedicated to inclusion and equity among races, ethnicities, income, generations, etc. bring the awesome benefits of integrated neighbor connecting online to all. Pick your own technology and model locally and we will help you build for real inclusion online that unites rather than divides your local community.
We are approaching interested funders to support intensive training for "community teams." Many foundations we are speaking to are very interested in the community benefit goals of our efforts and are asking how this work might apply to their community. We are offering our lessons, trainining and coaching and NOT saying "import" our exact model or technology. Local funders need to know that you are interested adapting inclusive community online engagement by expressing your authentic grass roots demand. Then we can meet in the middle.