Update July 31 – Marny Xiong will be leading intensive outreach in the month of August to add another 100 members (on top of the 100 recruited thus far) with a special emphasis on outreach to the Southeast Asian communities. If you would like to help with tabling, hanging posters and more, contact us.
Update September 1 – This new blog post has further updates and video.

Are you ready for St. Paul's most diverse neighborhood to thrive online with neighborly discussions and information exchange? If yes, join us on the new Greater Frogtown Neighbors Forum.
The other week we jumped to over 90 members when our volunteers attended the District 7 Planning Council's annual party with clipboards in hand (secret lesson – paper sign-ups work with local online forums, particularly when diverse community outreach is the goal) .
Here "Fresh Traditions" entertains the crowd with a mixture of traditional Hmong singing and rap (or view longer clip):
[youtube]9WWePMOv2Pw[/youtube]
And Atom Robinson, our volunteer Forum Manager, invites the crowd and now you to sign-up.
[youtube]FB8M_MfRTLc[/youtube]
So to help this forum reflect the great diversity of this area (the Greater Frogtown identity is a "state of mind." Roughly we mean all of District 7 including East Midway, Frogtown, Capitol Heights, Mount Airy as well as the area north of I-94 to include small businesses on both sides of University Avenue) e-mail your friends inviting them to visit http://e-democracy.org/frogtown or tell them to simply Google "frogtown forum" to join us.
To take outreach to the next level, print out this flyer to post in local places or use this paper sign-up sheet to gather those on your block or visitors to your small business (be sure to Fax or mail in the sign-up form!). Like the District Council, we encourage people who live, work, or own businesses in the area to join up. If you grew up in the area or have family (particularly those off-line or those who do not speak English) and want to monitor it for them, please join us. While the forum is "online" it will connect i-person with everyday life conversations at the corner store or across the side fence. The forum is open to all who are interested with the topic scope limited to local issues in the Greater Frogtown area and community life exchanges that reflect the common experiences of neighbors (like who can recommend a good plumber or who makes your favorite Pho.)
Councilmember Melvin Carter addresses the annual party while Mayor Chris Coleman lends his shoulder to Melvin's sleeping daughter: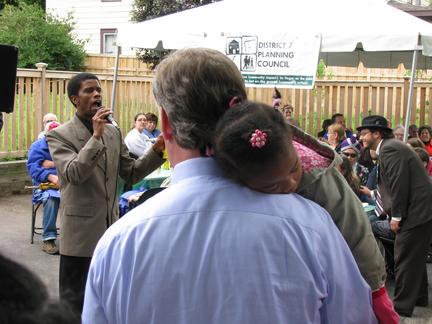 Finally, we need outreach volunteers (contact us) to help us sign people up at community events and other public places to help this forum – both in membership and posts – reflect the great diversity of this area. In the 2000 Census, this ever changing community was 38% Asian-American, 22% African-American, 24% white and 9% Latino. A third of residents were born outside of the United States and 50% of households speak a language other than English at home. Announcements and discussions are welcome in any language or in multiple languages. And 31% of residents live below the poverty-level compared to 16% city wide and 8% state-wide as of 2000.
Along with our new forum in the heavily East African neighborhood of Cedar Riverside in Minneapolis, initial outreach was supported by the MSNet Fund of the Minneapolis Foundation. In recent weeks, E-Democracy.Org is happy to announce that we've received $7,500 to support additional outreach and support for the the Greater Frogtown Forum from the Knight Foundation's local fund administered by the St. Paul Foundation. You too can donate toward this effort if inspired.
We are in the process of developing plans for how to enhance our outreach efforts to embrace the unique diversity of this area not just in numbers but in the online conversations that ensue. We are gathering "door prizes" to give away at 100, 150, and 200 members – so if your local Frogtown-area business would like to offer discounted gift certificates or goods for us to give away in exchange for a public thank you and link in a post, contact us with "Frogtown Door Prize" in the subject.