Join our 2013 "BeNeighbors" Community Outreach Team! – APPLY BY MAY 8!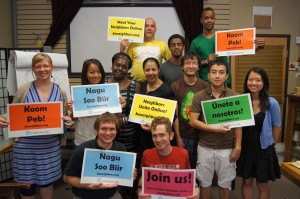 We are deepening our Knight grant-funded inclusion campaign to grow our St. Paul forums with the greatest diversity possible to over 10,000 members. We're also planning fundraising to include Minneapolis and other communities in future years.
Do you care passionately about building inclusive community?
Do you believe commitment to diversity is an important institutional value?
Do you want to be part of raising diverse voices?
If so, consider applying for one of 5 part-time, contract outreach positions. These new outreach staff will work both individually and with a team to recruit members for our neighborhood forums primarily among African-American, Southeast Asian, African immigrant, and Latino communities.
Location: Saint Paul with some travel in the Metropolitan Area
Description: Work as part of a team to develop and carry out diverse community outreach. Tasks are likely to include tabling at community events and venues (including outdoor events in sometimes inclement weather), interacting with attendees and/or presenting at neighborhood meetings and events, door knocking and posting flyers, and conducting face-to-face, phone, and online recruitment. The team goal for the summer is to recruit 2,000 new members to the Saint Paul neighborhood forums by focusing efforts on our most highly diverse, low income neighborhoods. Imagine the possibilities for empowering all voices!
Your outreach efforts will be supported by initial training, weekly team debriefs, coordinated outreach strategies and activities, and shared lessons in inclusive outreach and digital technologies. You will also work closely with other E-Democracy staff, contractors and volunteers to develop, refine, and further the goals of the inclusive outreach campaign.
Time Commitment: 12 weeks from late-May through mid-August 2013. Contractors will work 10-20 hours per week and must be flexible, reliable, and able to work mostly late afternoons, evenings, and weekends, sometimes with short notice.
Rate: $12.50/hour. As an independent contractor, you are responsible for all of your own Federal, State, Social Security taxes, and any insurance you choose to carry.
Requirements:
Passionate and enthusiastic; positive outlook and willing to lead. Inspires other contractors and volunteers to do high-quality organizing and outreach work
Proven ability to work as part of a team. Willing to pitch in to help others with day-to-day project tasks (event logistics, preparing/delivering materials, record-keeping, data entry, etc.).
Excellent personal accountability and follow through. Can meet deadlines and manage multiple tasks in a fast-paced work environment; highly flexible and able to handle high-stress situations. Highly self motivated, self directed, and organized.
Effective communicator. Â Values and fosters open communication; uses and understands the importance of active listening skills, and is an effective public speaker with above-average English-language writing skills.
Detail oriented and respectfully work with volunteers
Willing to learn and values self-improvement. Able to accept and offer praise and critical feedback; seeks and offers feedback and evaluation.
Reliably and consistently available via email and mobile phone
Must have reliable transportation to anywhere in the Twin Cities, including ability to haul materials for events and activities
Desired Qualifications and Experience
We are looking for exceptional people who may have talents in the following:
Experience or training in leadership development, multicultural outreach and communications, political science, online civic engagement, digital technologies or other related fields
Field outreach or organizing in diverse communities (tabling, door knocking, etc.)
Bilingual in Hmong, Spanish, Somali,Ethiopian, Burmese, Oromo, etc. (Not required.)
Deep connections to the targeted communities in Saint Paul, including involvement in neighborhood/community organizations
Proficient with Google Apps, social media, and digital video devices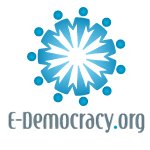 How to apply: Send a cover letter describing your qualifications and how you heard about the position. Also, attach your resume with three references to team@e-democracy.org by Wednesday, May 8, 2013. We will make the final decision shortly thereafter. Use the subject line: Community Outreach Leader Application. Include any questions in your email. No calls please. For more information, about this effort, please our website, and click on both "Blog" and "About".
If you see this posting late, check here to see if the position is still open.
E-Democracy builds online public space in the heart of real democracy and community. Our mission is to harness the power of online tools to support participation in public life, strengthen communities, and build democracy.