As our summer of Inclusive Social Media outreach gets underway across St. Paul and Minneapolis, we've put together a presentation introducing "Neighbors Forums."
The slides are detailed so you can skim or go in-depth. Additional download options are at the bottom of this post.
Invite us to present in-person in your neighborhood. Our Outreach Coordinator Corrine Bruning is also available for small group overviews in our target inclusion neighborhoods in particular. So far we have an on-demand video version with audio that goes in-depth (play it below).
In addition to the presentation, we have a new flyer available in our print materials section.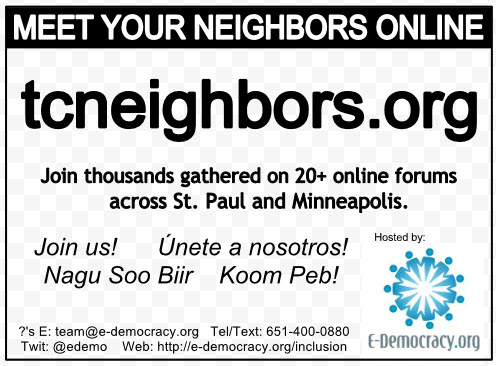 If you would like the start a new forum in your area anywhere please contact us. With renewed grant funding, we are focused on growing and launching as many diverse community forums (see our outreach summer job posting) as possible in St. Paul and Minneapolis. tcneighbors.org is our new promotional web address where folks can quickly find their local forum or request a new one.
How can you help?
If you don't see yourself starting a new forum in your neighborhood, you can still get involved! Please join our Projects online volunteer group here or monitor it via Facebook or Twitter. We put out calls for assistance there. If you are covered by a forum, contact your local Forum Manager and offer to assist with outreach.
Also, if you are software developer, please join the GroupServer Development group and help us develop new features or join our proposed next generation BeNeighbors.org effort.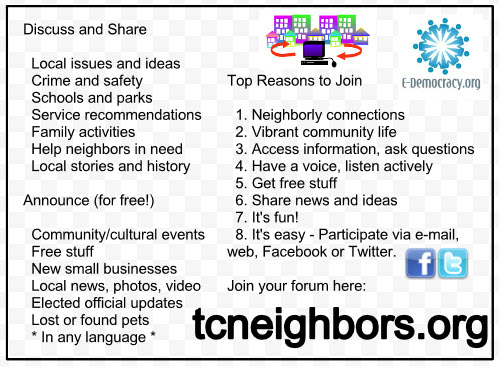 New communities?
Are you from outside Minnesota, Oxford and Bristol in the UK, or Christchurch, New Zealand? We are open to hosting forums both at the neighborhood-level but also city-wide "online town halls" based on our classic Issues Forum model everywhere. Eau Claire, Wisconsin is next. If you have the will and the dedication to do real outreach, we have the technology and lessons that plain and simple – work!
This isn't an auto-pilot, set it and forget model (nothing is), but wouldn't you rather build your local online community supported by a network providing mutual benefit and support? If not, if you prefer your own technology or think Facebook Pages really work over the long-run (you need 20x the "Likers" for comparable activity so we use rather than rely on Facebook at our core), that's awesome. Take our lessons and run with it because millions remain unserved. Also join the Locals Online community of practice that we host with hundreds of people doing local good online.
Additional Slide Options
Download options: PowerPoint – Full Version, PowerPoint – Short VersionPDF Online Viewing, PDF Print Full Page, PDF Handout 6 to Page
Watch/listen with extended audio: