A blog post on Harvard's Saguaro Seminar by Tom Sander caught my eye because it outlines exactly what I see being bolstered by critical mass very local neighbor connecting online:
Robert Putnam and I had always focused on information-flows as the key mechanism.  So these social networks:
enable individuals to access valuable information: how to get something done, hear of  job leads, learn how better to promote one's health, find out what is happening in a community, etc.; or
help individuals find partners for joint economic transactions (e.g., to know with whom to partner  in business, to close a sale to a friend or a friend of a friend, to locate a neighbor with whom one can exchange tools or expertise); or
spread reputations of members (or neighbors or local merchants) which causes all people in these networks to behave in a more trustworthy manner and facilitates altruism.  ….
facilitate collective action: it is easier to mobilize others around some shared goal like politics or zoning or improving trash pick-up if others in the  community already know and  trust you, rather than your having to build those social relationships from scratch.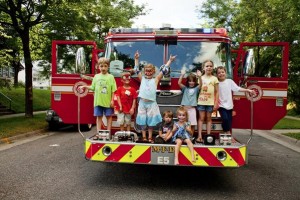 Prompted by this, I've decided to share something from an internal "next generation" document we produced in 2011. To get at why online neighbor connecting matters from a public interest perspective (and why community groups, governments, foundations should promote it BIG TIME), we've generated a list of all the good things that can be generated by neighbor connecting online (and off).
Benefits – Community Solutions 
While our [next generation efforts] must provide real value to everyday people to attract use, we've been gathering contacts across government and non-profit public service providers (potential "Solution Partners"). These vertical "silos" of community service will strategically benefit from our horizontally designed service. Service providers are likely not in a position to build critical mass participation for a similar system in isolation and will likely resist deep participation in other efforts where they are not true partners.
This is a full list of ideas suggested to us about how an engine for neighbor-to-neighbor digital connections might promote efforts or activities at the block, building, or nearest neighbor level:
Crime Prevention – Neighborhood watch, block club formation and communication
Disaster Preparedness and Community Recovery – Neighbor contact directories, communication (note current post-quake Christchurch Neighbours Forum effort: http://neighbours.cc )
Emergency Preparedness and Response – Rapid communication, particularly with text/SMS alert options
Neighborly Mutual Benefit and Support – Neighbors who know each other are far more likely to help each other in times of need
Health Care and Long-term Care – Neighbor-to-neighbor connections which support for healthier "aging in place" and neighbors facing major health challenges
Energy Efficiency – Exchange on successful energy use reduction actions among those with often similar homes (go beyond the numbers to how you changed yours)
Environmental Sustainability – Shared use of tools, reuse of household items – down the block rather than across town, block-level community tree planting and "citizen" forestry (note our connection with Ashoka Fellow-led TreePeople in LA)
Senior Care and Inter-generational Connections – Reducing isolation of seniors in their homes and connecting people across generations
Small Business Promotion – Recommendations exchanged on very local, often independent service providers
Transportation – Opportunities for carpooling, car sharing emerge
Local Food – Opportunities for garden sharing, splitting Community Supported Agriculture shares and other bulk food sharing emerge
Diverse Community Cohesion – "Ice breaker" opportunities that introduce people of different racial, ethnic, and social groups who live very near each other to each other
Education and Community Service – Opportunities to efficiently match tutors, mentors, etc. in extremely and close proximity to neighborhood youth – tapping Baby Boomer retiree capacity within walking distance as well as community service opportunities for youth
Recent Immigrant and Refugee Integration and Support – Provide an open and less intimidating way for new Americans to connect with and come to understand their neighbors (and vice versa) – note our current Ford Foundation funded Inclusive Social Media initiative: http://e-democracy.org/inclusion
Sustainable Broadband Adoption – Create meaningful reasons for those less likely to use broadband due to perceived irrelevance to find measurable value in the Internet locally
Rural Community Building – The dynamic nature our neighbor directory circle being based on "nearest neighbors" would connect relatively isolated households organically, could also connect year-round and seasonal residents
Youth Employment and Experience – Encourage the surfacing of demand for babysitting, yard work, snow shoveling and other services visible to the parents of minors who can play "agent"
Community Building, Civic Engagement, and Social Capital – Building community capacity for communication, listening, understanding, respect for difference, openness to new residents, advocacy on shared goals (from a new stop sign to graffiti removal to greening their block), etc.
This list may seem pie in the sky, but real life examples of such activity are already taking place on our current Neighbors Issues Forums  and other sites across the Locals Online community. [Next generation project] is required to bring this opportunity to vastly more people and places.
[END]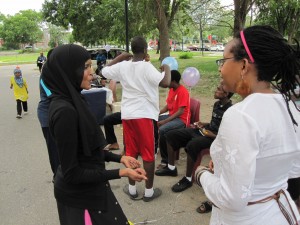 On a related note, we host an
amazing list of all thing know to have been done by a block club or simply a group of nearest neighbors somewhere
.
Some further background …
At the same time we were planning our massive now launched 
Inclusive Community Engagement Online
 effort in 
St. Paul
, we
started plotting
the "next generation" of open source neighbor connecting online (not to confuse you, but we've taken the once next generation BeNeighbors.org name and are using it differently for our 
"Got Milk" style outreach campaign
 for current generation neighbor connecting starting in the Twin Cities).At
As we build out our current outreach and inclusion efforts based on our very successful "public" community life model in 2011, we have an opportunity to collaboratively develop "what's next" that goes beyond our current model and what a Facebook Group for that matter can do. We believe strongly in sharing lessons and technology that can be distributed.
We seek partners and volunteers interested in building the next generation nearest neighbor-to-neighbor online connections that complement today's models. In 2013-14 we will be deploying experimental "online block clubs" connecting ~100 nearest neighbors more privately online in lower income areas of St. Paul with existing and additional funding.
We will likely test different technologies (possibly GroupServer (current tech), Drupal, Facebook Groups, etc.) and report back about what works best to the world. We've generally found that the technology is pretty much a commodity and it is the outreach and community leadership that makes the real difference. The fundamental question is – can we design tech that generates new emergent leaders rather than the current models out there which often require a leader up front for real success? Can we design tech that is "dynamic" that actually works with quality engagement generation or do the online spaces need to continue to be bounded geographically or have the membership determined resource intensively by a central person?
Getting involved …
The geeks should specifically join our Neighborly Open Source working group and if your are a Python coder, get involved with GroupServer feature development now to help.
Everyone interested should join our general Projects online group and watch for specific calls to action.
If you would like to volunteer in a leadership capacity to help, contact us now. As we are focused on recruiting an unprecedented 10,000 ~daily participants in one city with deep inclusion, your interest in developing our next generation strategy and pulling together the civically inspired tech/social media design team to make this happen bigger and better would be well timed. In particular, with so much "e" talent in the Twin Cities and that fact that everyone is a "neighbor" we seek people with day jobs who have the time and capacity to make a difference off hours or on a pro-bono basis as a company.