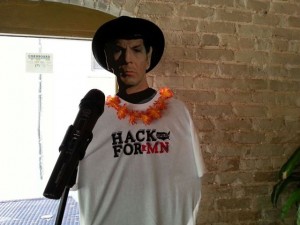 The other month we summarized with some "Clift's Notes" the Civic Engagement in the Digital Age report from the highly respected Pew Internet and American Life Project. Despite all of the potential for the Internet to raise new and less represented voices, in aggregate it is not yet closing the democratic divide. If left to its current path, online engagement might actually widen the democratic divide (my take).
This week, a great conversation on the Code for America Brigade online group highlights the challenge of connecting the growing civic tech movement with broader social good and inclusion in local communities. Â In short, we need to bring today's changing America to the table in each local community to help design and build the civic apps of the future and not just hope people from very diverse backgrounds and different needs or priorities are somehow magically served by nifty top-down or solo ideas.
So building on our BeNeighbors.org field effort of our Knight Foundation-funded Inclusive Community Engagement Online initiative, here is what we are doing to take action:
Engagement Tech – Open Twin Cities Proposal – Whether the regular civic tech meetups, the Visualizing Neighborhoods or Hack for MN code-a-thons, or the tech and design talent joining the Open Twin Cities online group the civic tech/open gov movement is on fire in the Twin Cities.

Co-founded by Alan Palazzolo, a one-time Code for America Fellow who now works at MinnPost and Bill Bushey, E-Democracy's Technology Coordinator, the civic tech ecology in Minnesota is coming into its own among efforts nationwide. We are emerging as a leader in middle America.
The (Archibald) Bush Foundation based in Minnesota, put out a call for Community Innovation Grants. It will be extremely competitive and we've found the local foundation world very cautious with anything technology related. Together with over ten signed on the dotted line potential partners we responded with the Engagement Tech – Open Twin Cities Proposal. If funded (up to 100K each year over 2 years), it will create the nation's most inclusive effort to build a regional civic technology movement. It will generate useful civic apps, ideas, and direct government, media, and nonprofit online services action. We just found out that the MSPBus.org mobile website developed at the HackforMN event has been invited to the White House's Champions of Change event next week.

With current partners and additional partners (letter of support template) putting real in-kind value on the table, we hope that this potential funding source and hopefully others will invest in this crucial effort to unleash technology for civic good and open government in Minnesota. Here are the letters of support we have received thus far:

City of St. Paul, City of Minneapolis, Center for Urban and Regional Affairs at the University of Minnesota, State of Minnesota: MN.IT, Minnesota Secretary of State, Minnesota High Tech Association, the Immigrant Bridges Email Network, local companies DevJam, GovDelivery, and WareCorp and nationally letters of support from the Sunlight Foundation and Code for America.

Companies like GovDelivery and individuals like Ben Damman have already signed on as Open Twin Cities/CityCampMN event sponsors, and so can you without delay. Contact Bill Bushey for details.

New Voices and Civic Tech and Engagement Convenings – E-Democracy.org goes deep locally and convenes and connects nationally and globally for lesson sharing, knowledge exchange and more. Sparked in part by the timely and disturbing numbers in PewInternet.org's Civic Engagement in the Digital Age report, we are leading national efforts to convene interested groups around inclusive civic tech and open government.

Long story short – to have a democratic impact and generate strong social benefits, civic technology must raise new voices and build power for less represented groups in society. It must build bridges across differences and be designed to help all kinds of communities solve problems together by unleashing their capacity. Different voices that are demographically similar to those with power and influence today are well covered by typical election campaigning and advocacy online. Market-based social networking is doing a fine job connecting people within existing circles of trust (within ethnic communities, within highly homogenous neighborhoods, among like-minds on political issues, etc.), so where are the gaps that need intervention and will inspire volunteer spirit or generate the most unmet community benefits when scarce funding is available?
Join us August 1st in San Francisco at Code for America to discuss the Pew report
Highlights from our initial DC gathering at the Sunlight Foundation
Both the Personal Democracy Forum in New York and the MIT/Knight civic media gathering in Boston surfaced strong and new inclusion themes in June
What's next? As we have gathered leaders in the civic tech/open government space and connected them with digital inclusion, civil rights, civic engagement circles, and government policy makers we see a crucial need for convening and collaboration among these diverse sectors. We've even had post-DC telephone briefings with staff in the White House's Office of Science and Technology Policy who work on open government. Right now I am gathering input on potential next steps and opportunities for collaboration. What are ways to help current civic tech and open gov efforts reach far more people, new voices? What works? What doesn't? Send me your thoughts.

Digital Inclusion Network – With nearly 500 members, our simple online group for digital inclusion in general is a great place to land. We are working to introduce civic engagement as one of the key challenges for digital inclusion on top of access to technology, computer skills, digital/information literacy, etc. Learning to apply for a job online is great, so is learning how to contact your elected officials to have your say in local democracy.