While Steve Clift has been attending the Minnesota Broadband Summit, I've been participating in the Place Matters 06 conference in Denver, Colorado.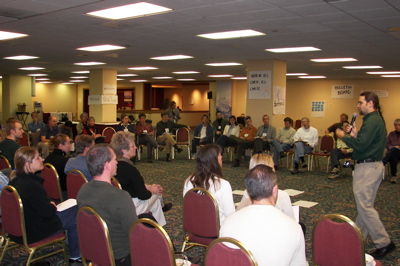 Yesterday, I presented the "Issues Forum" work of E-Democracy.Org as part of the "eParticipation: Technology and the Future of Collaborative Decision-Making" panel discussion (download powerpoint presentation here). This is a fascinating conference "where a national network of practitioners come together to learn, share, inspire and seed innovation in place, collectively elevating the art and science of planning for vibrant, sustainable communities."
Its an interesting group of people, mainly city/regional planners, who are looking for tools to engage the public in discussions on how to create sustainable communities. Many of the folks I've spoken with today are very much interested in the "Issues Forum" model for citizen engagement.
In the Europe, I've found that many of the E-Participation folks that I know and work with, have a background in "town planning." This has always been a suprise to me, because I seldom run into "planners" at the conferences I normally attend in the US. Yesterday and today, I finally connected with the "planners" of America – and discovered that they also have a STRONG interest in public participation.
This afternoon, I convened an Open Spaces discussion on "Integrating Online and Face-to-Face Public Participation."
At the reception this evening, I had a fascinating discussion with the "Open Spaces" facilitator Chris Corrigan about "Open Spaces Technology," blogging, and many other things. He promised to link to the E-Democracy.Org project blog from his own blog, Parking Lot. Well Chris, I'm waiting.
🙂
I also spent some time this evening speaking with Sandy Fischer and Mayor Darlene Kordonowy, from The City of Bainbridge Island about some of the very interesting work that they are doing in the area of online citizen participation. I'm hoping that we might get another chance to speak about the potential for E-Democracy.Org style Issues Forums in their community.
Tim Erickson