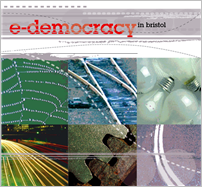 A snappy new report on e-democracy tools used in Bristol is introducing Issues Forums to communities across the UK. Unlike most countries where local governments are almost exclusively focused on one-way e-services (boring), in the UK there are a number of local and national initiatives to improve democracy online (connect with leaders here).
The 65 page e-democracy in Bristol report recognizes that the model as one of the three least costly e-democracy investments for citizens and governments alike! The report supports our community-run approach while stating that councils, "can help facilitate the process by providing support or funding." In Bristol with neighbourhood forums we receive some council support from Carol Hayward and council staff in Oxford are now starting up a pilot neighborhood version of our local Issues Forums. In Roseville, Minnesota the local government provided funding for the rapid start-up of a citizen-owned Issues Forum. This report's endorsement is a great boost. Below is the full text from their Issues Forum section.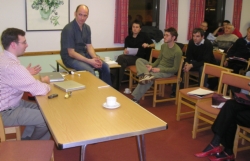 If Issues Forums are the "egg" of local e-democracy can our leaders in Brighton and Hove help figure out what the "chicken" looks like? Or at least make a really tasty omlet?
In Brighton and Hove, coming off recent local elections in May the forum had its most productive month in terms of posts since its beginning a few years ago and membership is at an all time high of 271 registered participants (doesn't include many more web visitors). They even have a new "virtual citizen" from just across the English Channel in France.
Dan Jellinek, our first UK-based international board member for E-Democracy.Org and Co-Chair of Brighton and Hove E-Democracy drafted a submission to the Innovation Fund of the DCA/new Ministry of Justice. Proposals are limited to 15,000 GBP they are strategically focusing on deepening the innovative Issues Forum model with a focus on tools for recruitment (including the important social inclusion aspect as pointed out by the Oxford Internet Institute evaluation), seeding discussion topics, and then strategically sharing tools and lessons across our growing UK network.
Along these lines E-Democracy.Org is of course interested in new larger initiatives to bring Issues Forums to more communities across the UK. Whether it is finding funding to actively pursue multiple forums across Wales, N. Ireland, Scotland and England to working one at a time with volunteer-based or local council funded start-ups, drop us a line: team@e-democracy.org