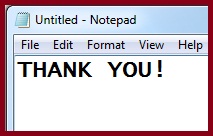 Give to the Max Day was a big success.
We've doubled our number of donors to over 150 total on GiveMN.org, with 76 donors contributing on or near Give to the Max Day. We raised $2,215 which earned our local "Leader's Challenge" match of $1,000.
That means we now have $3,215 in 2012 to support grass roots neighborhood and community Issues Forum outreach – primarily for our forums that do not currently have special grant funded outreach support.
Your donations are a huge thank you to our dedicated local volunteers – our local "forum managers." Without them and their time, there would be no online public space for your community or neighborhood.
Your donations will support our efforts to further support their dedication and energy:
Printing of posters, handouts, and other outreach materials distributed locally by volunteers. (Become one and help get the word out. Our forum volunteers need your help.)
Tabling at key community events – a crucial part of our in-person outreach strategy.
Special "inclusive" outreach leveraging field work by our outreach team. Our inclusive outreach grant funds have specifically supported forums in lower income, highly diverse areas. Your donations will make it possible to extend diverse community outreach to the middle income neighborhoods where participants donated. For example, we can pay our Latino outreach leaders to do some work in the Standish-Ericsson neighborhood where just over $500 was donated.
Being part of Give to the Max Day was a great opportunity. Across this Minnesota-focused event, over 47,500 donors donated $13.4 million to about 4,000 nonprofits. This reminds us how important it is to ask those who support our work or find a real benefit from our forums to contribute toward their success. While 76 donations is our most at one time ever, we need to do more to support all of our forums with your donations. In fact, it is not too late to donate this year.
This year we set up a team challenge to extend inclusive outreach in our Minnesota forums. Almost $1,000 of our $2215 raised came in via our local volunteers – in order of the amount raised:
Steven Clift, Minneapolis Standish Ericsson
Sara Bergen, Minneapolis Powderhorn
Peter Fleck, Minneapolis Seward
Jeff Ueland, Bemidji
Nick Cross, Minneapolis Phillips
Jason Stone, Minneapolis Nokomis East
Jonathan Carter, Saint Paul East Side
Sally Fineday, Cass Lake Leech Lake
Dan Haugen, Minneapolis Northeast
Thank you team! (Now let's rev up the outreach engine  . 🙂 )
Here is what we heard from some of our donors:
"I learn SO MUCH about my neighborhood through E-Democracy. Keep up the great work!"
"An excellent, non-partisan source to discuss local news and social issues. MPR – watch out!"
"E-Democracy is one of the best ways to address and discuss local issues. I think this is especially true in rural areas where the options for news and discussion are far more limited."
"The battle for democracy will be won or lost in our local communities. E-Democracy is helping us win the battle by creating the public spaces for our conversations about our communities."
"One of the very best sources for information and discussion of state and local issues ever! That includes MPR! Thank you E-Democracy."
Thanks again for your donations.
The financial support from participants will become increasingly crucial in every community we serve. We've built a low cost, volunteer-driven model but supporting our volunteers and effective outreach will cost more every year as we challenge ourselves to be more inclusive and grow.
We also need support from our global supporters who see real value in high quality non-partisan, non-profit inclusive community and democratic engagement online. Your donations make a statement to us and crucially the foundations and other major donors looking to invest in inclusive online community engagement and democracy building that this work inspires and makes things happen.