Last call on our Thursday, October 11 "Community Engagement Online for All" workshop in Seattle. Not in Seattle? Join our special Neighbors Online webinar on Nov. 14.
Corrine Bruning, Tim Erickson, and Steven Clift will then be participating in the NCDD national conference with a similar, but more in-depth session on October 13. Watch us on Twitter @edemo, @democracy, and @mrtimtweets and the tag #ncdd.
Here for our archives is the full text of the workshop announcement:
Community Engagement Online for All Workshop
Seattle, Washington
If you can't make it – note our Nov. 14 webinar.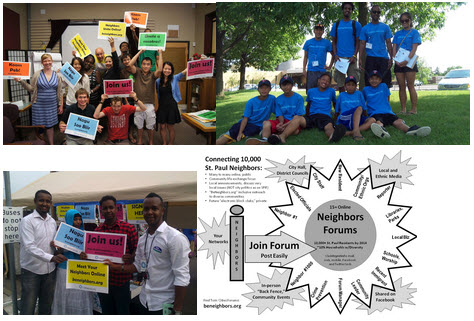 Time and Date: 4:30 – 6:30 p.m., Thursday, Oct 11
Place: Beacon Hill Library, 2821 Beacon Ave. S, Free Parking

On Light Rail, 24 min from Airport, 15 min from Westlake DWTN
Cost: Free, Space is Limited
Introductions: After you register, join our special Facebook Group for pre-event virtual introductions.
Not in Seattle? Get e-news about our Nov. 15 webinar sharing BeNeighbors.org outreach lessons. Also join the free Locals Online or Digital Inclusion communities of practice.

Join us for a dynamic two part conversation on building inclusive online community engagement in neighborhoods.
1. Seattle Neighbors Online Networking – Who is doing what?
2. Inclusive Community Engagement Online – Lessons to adapt and deploy locally
The gathering will be facilitated by Minnesota-based E-Democracy.org. They are in town for the National Coalition for Dialogue and Deliberation national conference starting October 12. The event will have a dynamic mix of local and national participants excited to learn from each other.
1. Seattle Neighbors Online Networking – Who is doing what?
Part one will start with a friendly networking roundtable where you are invited to share a few minutes about your online neighbor connecting efforts or put your "I am just getting started" questions on the table. Let's highlight great online neighbor connecting efforts already happening in Seattle.

Together, we will briefly introduce conversation-based neighbor connecting "tools" many of us use like simple e-mail lists, forums, Facebook Groups, NextDoor, etc. and dig into why, when, where, how (public v. private) as well as introduce inclusive outreach and engagement that matters to diverse local communities. Seattle has one of nation's most vibrant placeblog and parent forum scenes which in addition to local online groups/lists are neighbor to neighbor connecting instigators.
2. Inclusive Community Engagement Online – Lessons to adapt and deploy locally 

Part two will provide an in-depth presentation with extended discussion on E-Democracy's BeNeighbors.org outreach effort to build inclusive and integrated online community engagement in lower income, highly diverse, high immigrant neighborhoods in St. Paul and Minneapolis, Minnesota.
Why inclusion? Online neighbor connecting is useful and powerful for those who discover it, yet among the divides, the Neighbors Online study of the Pew Internet and American Life project found that households making 75K a year are 5 times more likely than those making 50K or less to be a member of a neighborhood e-mail list or forum.
With 2 years of pilot funding from the Ford Foundation and now extended St. Paul funding from the Knight Foundation through 2014, the BeNeighbors.org effort hopes to exchange lessons with projects around Seattle and beyond. By openly sharing our challenges and insights, we hope to learn from the work of other great projects.
Background Links:

Sponsors
This is event is being organized by the non-profit BeNeighbors.org outreach initiative of E-Democracy.org. Co-Sponsors include the City of Seattle, the Seattle Foundation, and the National Conference of Dialogue and Deliberation. We invite additional co-sponsors in exchange for helping promote this event to diverse cultural communities and community groups. In addition to local community participation, this gathering is an official pre-conference workshop for the NCDD national convention: http://ncdd.org/events
Contact

If you have questions about this event, please contact E-Democracy.org at team@e-democracy.org or 612-234-7072.

Attendee ListSort by: Date | First Name | Last Name
Nina Carduner, HERE, Inc. , WA, WA
Website:Â http://here-inc.com
Your Orgs Twitter Handle:Â @H_E_R_E

---
Sean Kean, HERE, Inc., WA, WA
Website:Â http://here-inc.com
Your Orgs Twitter Handle:Â @H_E_R_E

---
Toryan Dixon, Program Associate, 21 Progress, Seattle, WA, Seattle, WA
Website:Â 21progress.org

---
Jackie Leone, Seattle, WA, WA


---
afsaneh J Haddadian, Research Assistant , Kettering Foundation , Centerville, OH, Dayton , OH
Website:Â http://kettering.org
Your Twitter Handle:Â Afsaneh JH

---
Jack Becker, Research Assistant, Kettering Foundation, Kettering, OH, Dayton, OH
Website:Â http://kettering.org
Your Twitter Handle:Â @jackabecker
Your Orgs Twitter Handle:Â @ketteringFdn

---
Al Boss, Web developer, King County, Seattle, WA, Seattle, WA
Website:Â http://www.kingcounty.gov
Your Twitter Handle:Â alboss
Your Orgs Twitter Handle:Â kcnews

---
Colin Shannon-Garvey, Retired, Seattle, WA, Seattle, WA
Website:Â http://montlake.net
What's your neighborhood's online group/list/forum? Name and link if you know it.:Montlake Forum montlakeforum@yahoogroups.com

---
ellie kemery, Co-Founder, MakerHaus, WA, Seattle, WA
Website:Â http://www.makerhaus.com
Your Twitter Handle:Â @elliekemery
Your Orgs Twitter Handle:Â @makerhaus

---
Judy de Barros, consultant, Seattle Foundation, Seattle, WA, Seattle, WA


---
Theodore Thomas, Project Advisor (pro bono), Partnership for Transparency Fund, Washington, DC, WA
What's your neighborhood's online group/list/forum? Name and link if you know it.:Cleveland Park listserve, Cleveland Park Citizens Association Listseerve

---
Glenis Joyce, Saskatoon, SK, WA


---
Kia Franklin, College and Family Engagement PM, TAF, Seattle, WA, WA
Your Twitter Handle:Â kiacharon
Your Orgs Twitter Handle:Â STEMbyTAF

---
Kizha Davidson, Events Specialist, YWCA Seattle | King | Snohomish, Seattle, WA, Seattle, WA
Website:Â http://www.ywcaworks.org
Your Twitter Handle:Â @yaykizha
Your Orgs Twitter Handle:Â @ywcaworks

---
Yemane Gebremicael, President, African Diaspora Of Washington, Seattle, WA, Seattle, WA
Website:Â http://N/A
Blog:Â http://N/A

---
David Keyes, Community Technology Program Manager, City of Seattle Dep't of IT, WA, Seattle, WA
Website:Â http://seattle.gov/tech
Blog:Â http://techtalk.seattle.gov
Your Orgs Twitter Handle:Â diginclusion
What's your neighborhood's online group/list/forum? Name and link if you know it.:Â City directory of neighborhoods online and tools: www.seattle.gov/communitiesonline

---
Subeida Mukhtar, Self, Seattle, WA, Seattle, WA


---
Tobias Eigen, Executive Director, Kabissa, Bainbridge Island, WA, Bainbridge Island, WA
Website:Â http://www.kabissa.org
Blog:Â http://www.kabissa.org/4313
Your Twitter Handle:Â tobiaseigen
Your Orgs Twitter Handle:Â kabissa
What's your neighborhood's online group/list/forum? Name and link if you know it.:Olympus Beach Neighbors http://groups.yahoo.com/group/olympusbeach/ Kabissa – Space for Change in Africa http://www.kabissa.org 

---
Lisa Uemoto, Community Builder, Seattle Housing Authority, WA, Seattle, WA


---
Anthony Davis, Resident Manager, Monica's Village Place I, Seattle, WA, Seattle, WA


---
Michelle Ackermann, Director of Communications, Seattle Housing Authority, WA, WA


---
Laura Gentry, Technical Communications Specialist, Seattle Housing Authority, WA, WA


---
Lizzie Evans, Founder, UFSC PS Chapter, Seattle, WA, Seattle, WA
Website:Â http://www.ufscps.org
Your Orgs Twitter Handle:Â ufscps_chapter
What's your neighborhood's online group/list/forum? Name and link if you know it.:Â Youth Intern Community Program

---
Jim Singletary, Seattle, WA, WA


---
Stella Gran-O'Donnell, WA, WA


---
Lois Maag, WA, WA
Your Twitter Handle:Â @SeaNeighborhood

---
Janet Heubach, Senor Program Officer, Washington State Mentors, Issaquah, WA, Issaquah, WA
Website:Â http://wamentors.org

---
analia bertoni, seattle, WA, WA


---
Andrew C Gordon, University of Washington, Seattle, WA, Seattle, WA
Blog:Â \

---
Marquise Roberson-Bester, Community Builder, White Center-Commuity Development Association, Seattle, WA, Seattle, WA
Website:Â http://www.wccda.org

---
malik russell, Director of Communications, everyday Democracy, Hartford, CT, East Hartford, CT
Website:Â http://www.everyday-democracy.org
Your Orgs Twitter Handle:Â @EvDem

---
Donna Manders, WA, WA
Your Twitter Handle:Â @SmokeFreeLife

---
Cheryl Honey, Community Weaver, Family Support Network, Long Beach, WA, WA
Website:Â http://www.goodneighbors.net
What's your neighborhood's online group/list/forum? Name and link if you know it.:NeighborsNetwork@googlegroups.com 

---
Anne Stadler, Lake Forest Park, WA, WA


---
Jennifer Martin, Senior Officer, Grantmaking & Community Leadership, The Seattle Foundation, WA, Seattle, WA


---
Corrine Bruning, Outreach Coordinator, E-Democracy.org, Minneapolis, MN, Minneapolis, MN
Your Twitter Handle:Â incensenhoney
Your Orgs Twitter Handle:Â edemo
What's your neighborhood's online group/list/forum? Name and link if you know it.:Â E-democracy.org Phillips Neighbors Forum

---
Steven Clift, Executive Director, E-Democracy.org, MN, Minneapolis, MN
Website:Â http://e-democracy.org
Blog:Â http://blog.e-democracy.org
Your Twitter Handle:Â @democracy
Your Orgs Twitter Handle:Â @edemo
What's your neighborhood's online group/list/forum? Name and link if you know it.:Minneapolis Standish Ericsson Neighbors – http://e-democracy.org/se